Paediatric defibrillator pads
Using a defibrillator with paediatric electrode pads
When a child suffers cardiac arrest, it is not primarily due to problems with the heart but usually due to suffocation or drowning. Early use of CPR and a defibrillator can save their life. For the best results, use paediatric defibrillation pads, also known as paediatric electrodes, specifically designed for children.
When to use paediatric electrode pads for the defibrillator?
Paediatric electrodes are ideal for children up to 8 years old or weighing less than 25 kg. It can be challenging to estimate a child's age or weight in an emergency, and an estimate may be necessary. While using children's electrodes is desirable, it is not always essential. The Resuscitation Council (UK) recommends using a defibrillator with a paediatric attenuator in infants and children below 8 years (energy reduced to 50-75 J). Although it's possible to use a standard defibrillator with adult electrodes if one with the child option is unavailable, it's important to remember that changing electrodes during a high-pressure situation can result in delays.
How do paediatric electrode pads work?
Paediatric electrode pads operate using a unique database designed specifically for children's heart analysis. The defibrillator's pulse is adjusted to a lower setting of 50-80 joules, depending on the brand, from the usual 150 joules. When dealing with children weighing less than 25 kg, one electrode should be attached to the chest, the other on the back between the shoulder blades. In this case, when resuscitating, the hands are placed on the electrode.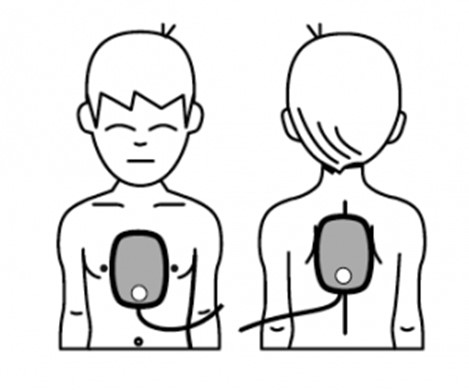 Paediatric electrodes, child key or child mode?
Many defibrillators have separate child electrode pads, while others use an infant key to reduce the strength of the shock. Some defibrillators have a child mode, allowing users to switch from adult protocol to child protocol with the touch of a button. Check the specifications of your defibrillator or consult with our specialists to determine whether you need separate children's electrodes.
Buy paediatric electrode pads for your defibrillator
If your defibrillator does not have child mode, we recommend purchasing a set of paediatric electrodes. Keeping paediatric electrodes with your defibrillator is especially important for defibrillators in schools, sports clubs, and swimming pools. We offer a wide range of paediatric electrode pads for all defibrillator brands. View all paediatric electrodes or choose the right brand directly below.
Contact our specialists
If you are unsure about which electrodes to use for your defibrillator or need personal advice, feel free to contact our specialists.